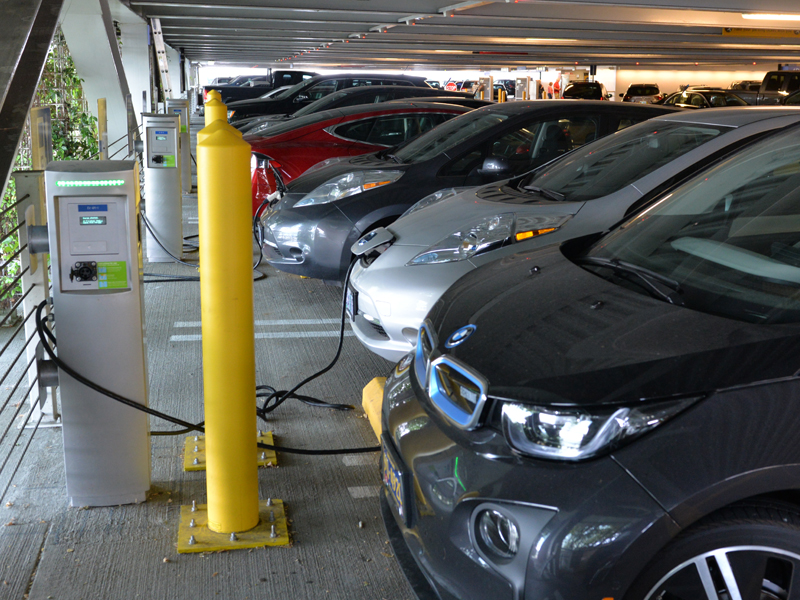 Portland International Airport offers travelers and employees 48 electric vehicle charging stations—the largest installation of commercial stations at an airport in the United States.
The PDX economy parking lot has 24 L1 PowerPost™ EV charging stations, available in two separate areas of 12 stations each. An additional 18 level 1 stations are located in the PDX employee lot on Northeast Alderwood Road.
In the short-term garage on the fourth floor, there are six 240 volt level 2 charging ports, as three stations offer two connections each. PDX also provides level 2 charging to valet customers, giving a faster boost for quick trips.
The level 1 stations have the typical 120 voltage found in homes. Level 1 outlets enable EV drivers to recover about five miles of range for every hour they are charging. So, a typical commute of 20 miles is recovered in about 4 hours. The lower voltage allowed PDX to install more charging stations without costly electrical supply upgrades often needed by more powerful level 2 chargers.
"We are excited to support our travelers and employees with these new EV charging stations," said Vince Granato, Port of Portland chief operations officer. "The installation of EV charging stations is one of our many environmental initiatives, which are central to how we do business and serve as good community stewards."
The Port is monitoring the care and use of the EV charging stations, and intends to expand the program in the future in response to demand.