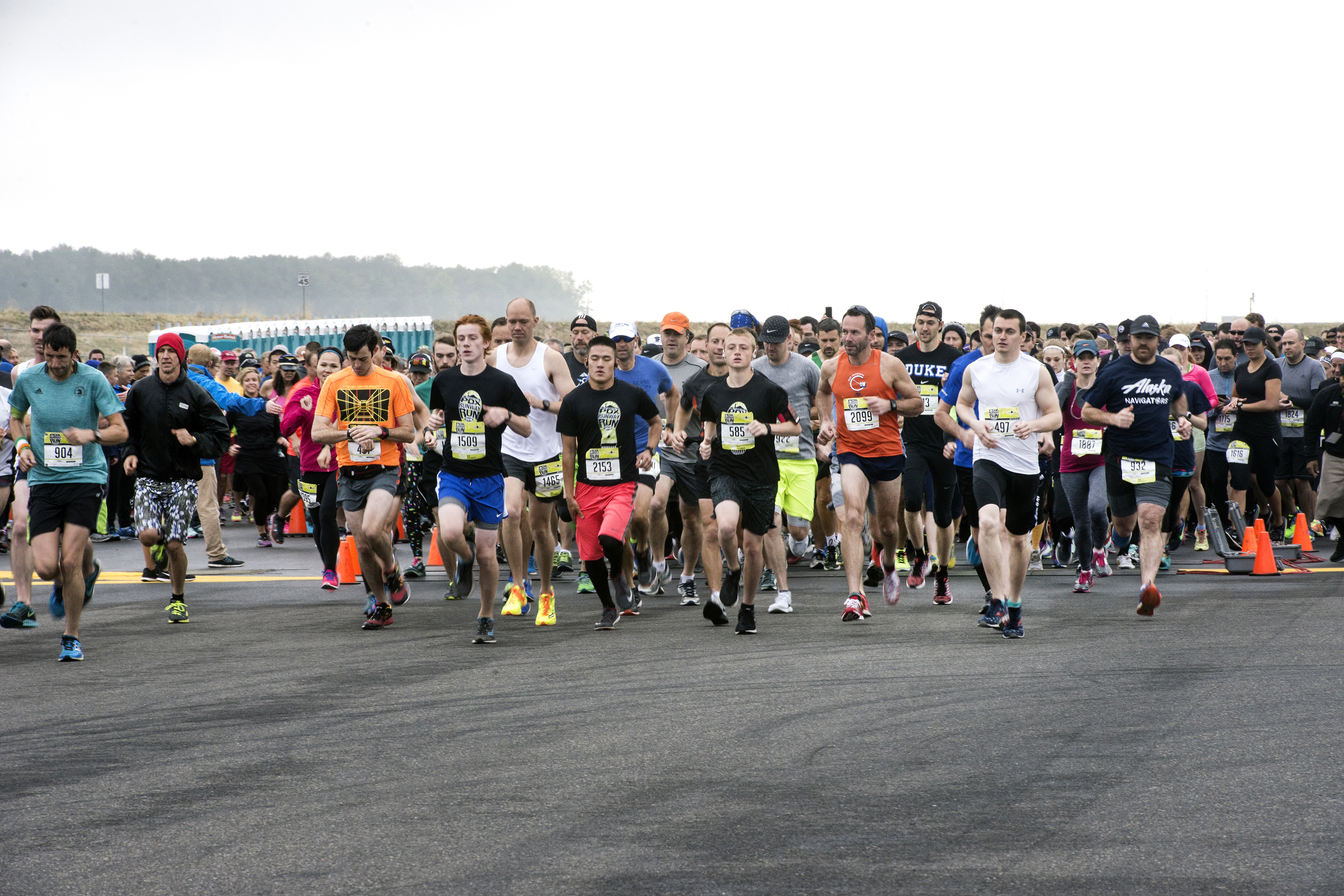 When trying to minimize waste, large public events are overwhelming. They involve a high concentration of people, disposable food and drink containers, and outdoor spaces or venues that may not prioritize or support recycling. These are challenging factors to overcome to meet zero waste goals – defined by the EPA as 90 percent or greater landfill diversion rate.
To celebrate the airport's 75th anniversary and the Port of Portland's 125th anniversary, the Port and HTC Race Series presented the PDX Runway Run 6K on Sept. 24, 2016. This event welcomed 2,500 people to the south runway of Portland International Airport for a once in a lifetime experience, remarkably the event resulted in a 95 percent waste diversion rate.
What were the secrets to zero waste success? Here are seven tips from Port experts to make your next event as sustainable as possible.
1. Set a goal. Early in planning get team members on-board to make the event zero waste. When decisions come up for discussion later, that goal becomes a guiding framework for creativity, problem-solving and flexibility in event design. It also becomes a way to engage contractors in a new way of thinking.

Included in event communications, this logo exemplifies the Port's commitment to minimize waste in all operations. To learn more, visit the Green Side .
2. Communicate. Share expectations with participants ahead of time. For example, include information about your zero waste goals on your event website or in an email update. Encourage attendees to minimize the waste they bring to the event.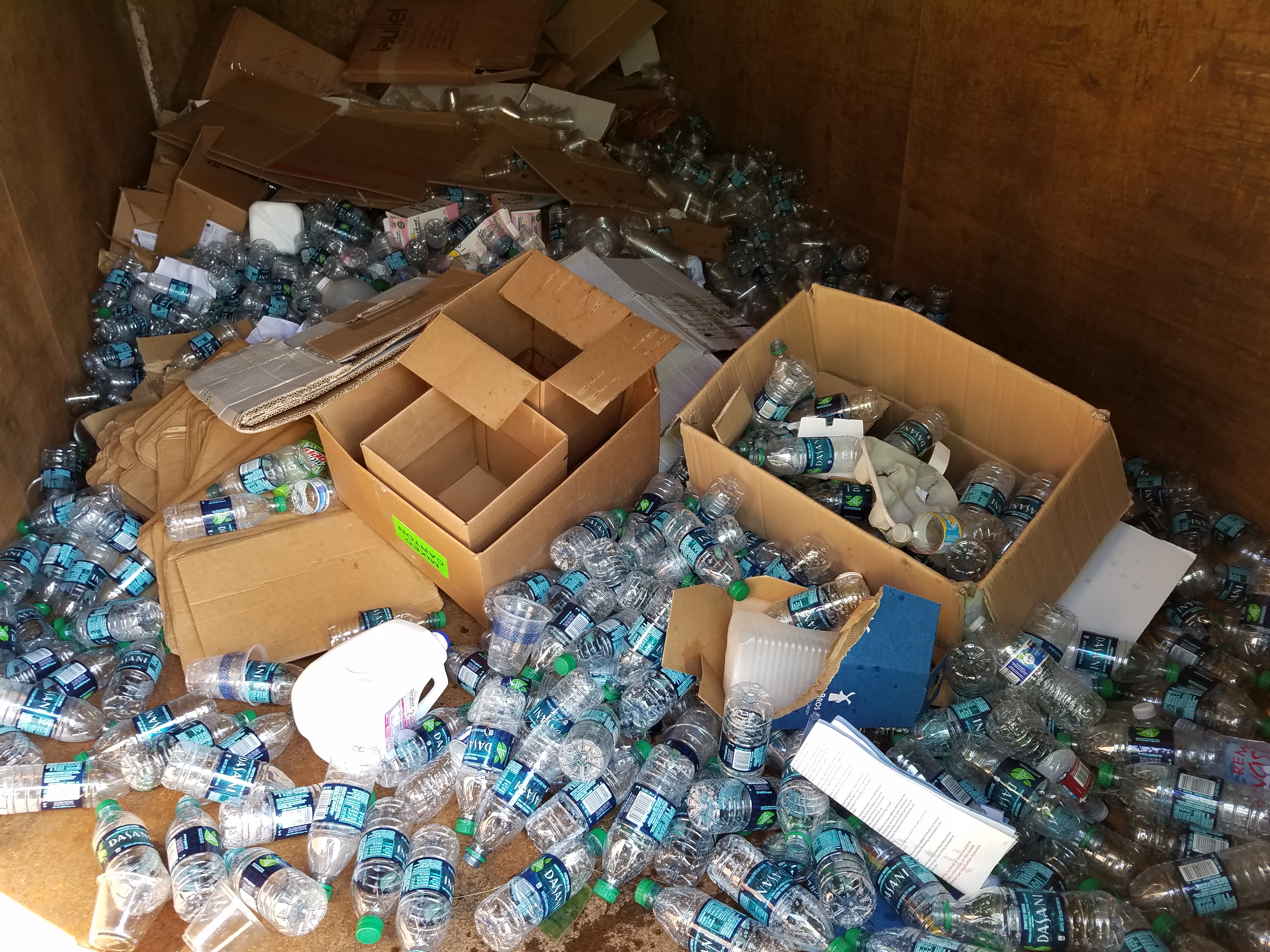 Plastic water bottles, cardboard, plastic jugs and paper were all recycled as a result of planning for availability for a bulk mixed recycling collection container. Excess food was collected for compost.
3. Communicate – again! This time with your vendors, let them know your goal and ask them what type of food, drink or merchandise they will be distributing. Have them give you an inventory of what they will bring to the event that might require disposal. This could include food, disposable plates, cups or napkins. It could also be packaging materials including cardboard boxes or plastic shrink wrap. Once you have that list, contact your waste hauler and see if they can provide the correct bulk containers for disposal and recycling. Often, waste haulers are open to collecting different materials for recycling if the bulk material is "clean" – meaning it's properly sorted and ready for recycling. Contact vendors to ask about waste reduction options. For example, if your community offers bulk composting options, could the vendor use compostable plates instead of plastic? How about offering a recyclable bottle instead of a plastic cup? Once you have the zero waste mindset in planning and begin asking questions, more sustainable alternatives options emerge.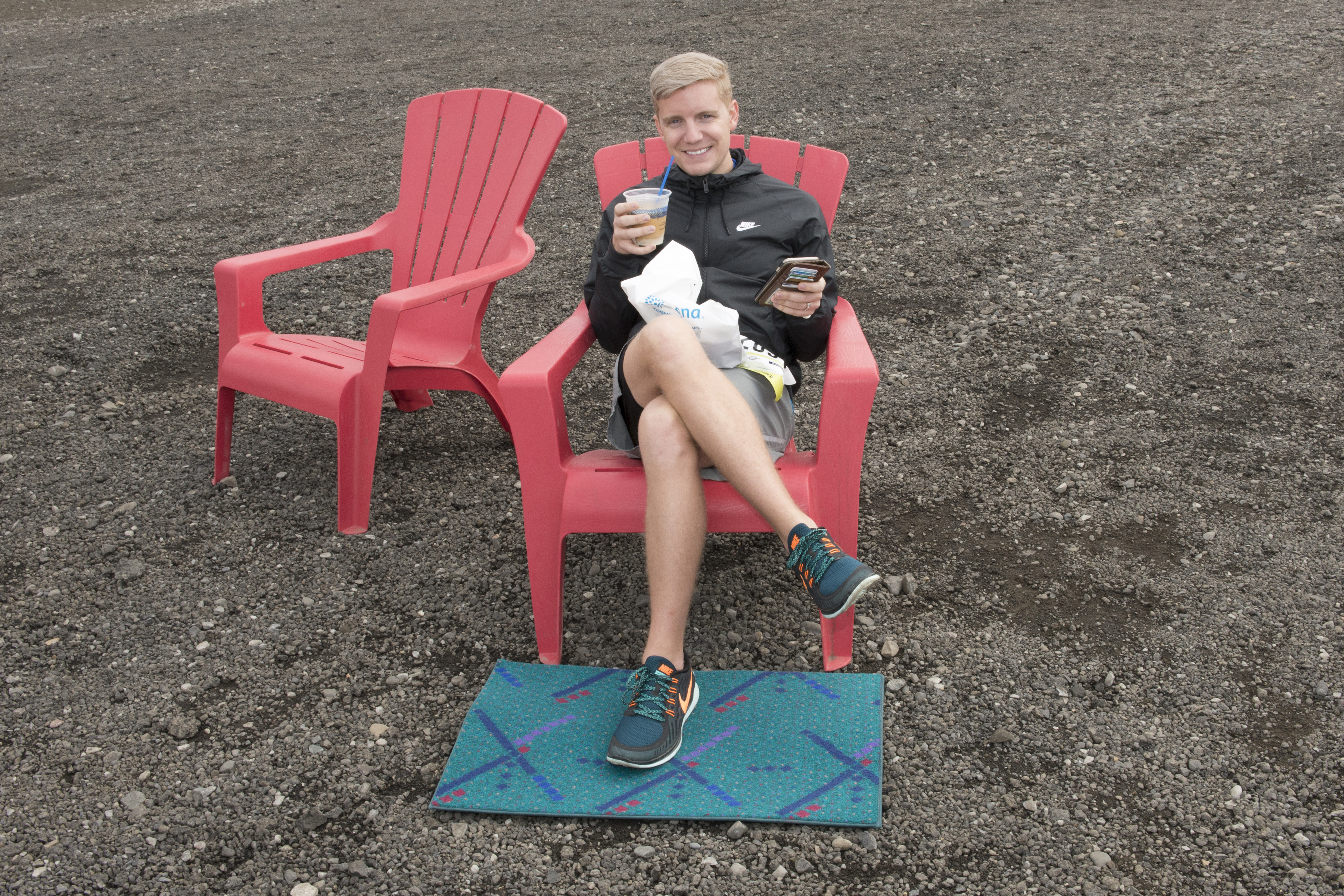 Iconic PDX carpet squares were given away to top three race times in each category, allowing for creative reuse and a gift unique to PDX.
4. Offer smart giveaways. Think deeply about the purpose and function of giveaways. While they can be great for branding, consider their usefulness and if participants will value them. Is there is a chance that what you distribute will end up in a landfill? Curtail items that increase waste. If you have community partners ask them to also join your effort to minimize waste in what they bring to their event booth for distribution.
Each area of the event footprint was carefully considered in planning for recycling, in this area the team placed recycling containers in prominent locations for plastic water bottles and plastic water cups.
5. Consider event design. Take a 360 view of your event footprint and systematically evaluate what waste will be produced in particular locations, and then strategically place recycling bins to support the desired disposal behavior. This eliminates barriers to recycling for participants – make it easy! For example, at the water station place a bin to collect plastic cups for recycling. In contrast, at the gathering area – food composting, mixed recycling and landfill options may all be necessary. Make sure that cardboard recycling is in a convenient place for contractors and vendors. And, be sure to clearly label all bins to minimize confusion by participants.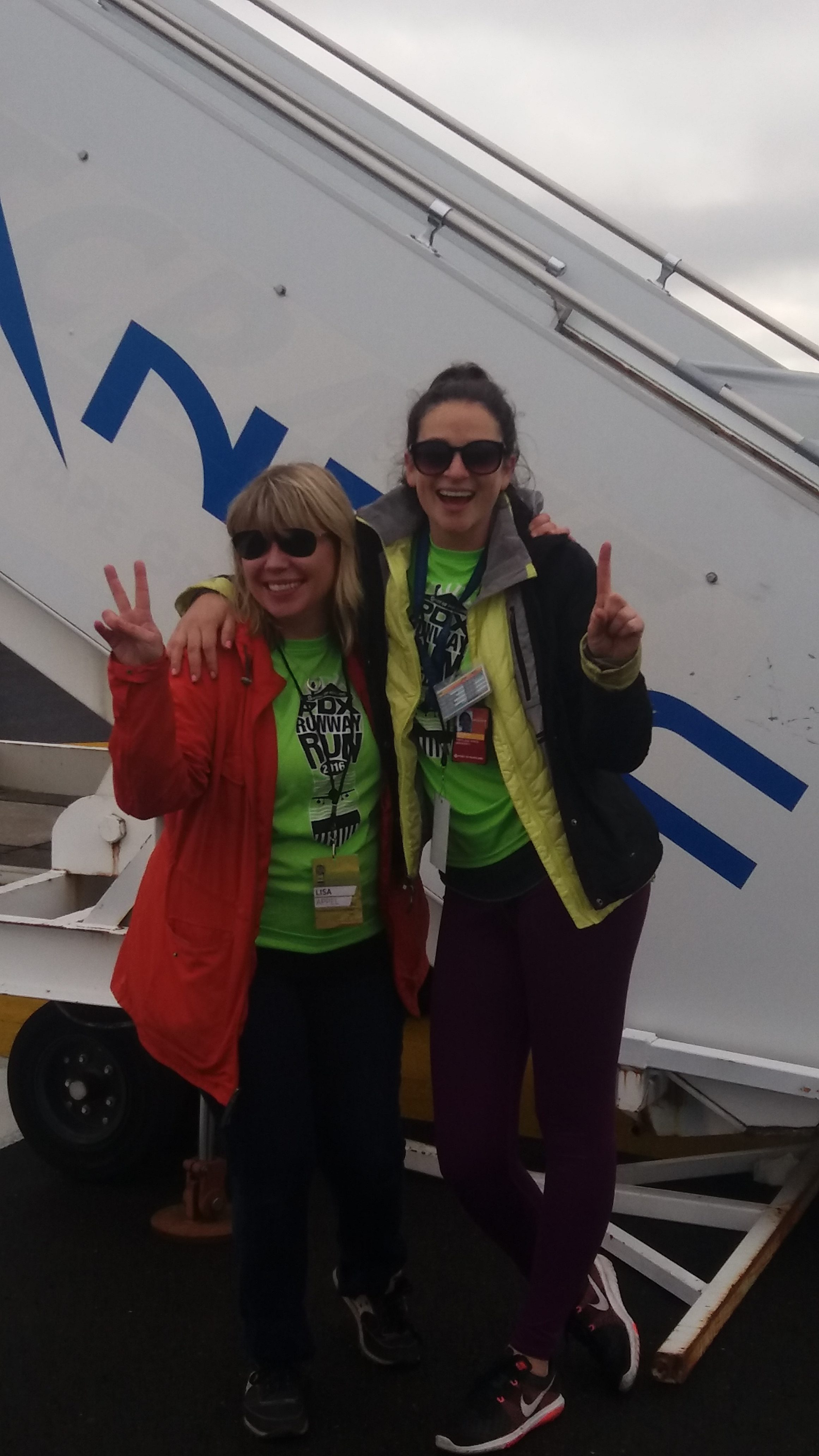 (Left) Lisa Appel, Port Environmental Outreach Manager/Event Manager, and (Right) Grace Stainback, CES Waste Minimization Team Member, share excitement for sustainability. Grace was one of the volunteers that helped guide participants in proper recycling during the event, ensuring that plastic bottles were recycled as well as cardboard and plastic film from medal boxes were sorted appropriately at the finish line. 
6. Enlist volunteers. Place trained volunteers who are the experts on your plan in the right places to guide participant behavior. Touch base with them ahead of time about your system and plan.  Place volunteers in key zones where waste disposal is happening. They can monitor waste receptacles and give guidance and encouragement to participants on which bins to use. It's also important to remember that materials management takes work. Items must be moved and placed in the proper areas. Preparing people for it and getting excited by the outcome is important. The work is extremely rewarding and easy to do!
7. Rent, re-use or donate. The most sustainable option is to rent equipment rather than buying it, but in some cases this is not possible. For example, orange plastic fencing that lined the course route for safety was left over after the PDX Runway Run. The Port was able to re-purpose the fencing for another project. Other options include donating or selling it for reuse by a construction rental company or contractor. Other factors to consider with a running event is directional signage for parking areas and route. Ideally, signs can be reused. But what if it is a one-time event like the PDX Runway Run? In this case, the Port donated extra signage to a local non-profit partner who will reuse the signs at their events; purchasing another laminated sticker to cover existing information is much-more cost effective, and sustainable, than purchasing brand new signs.
The Port's PDX Runway Run Zero Waste Event Planning Timeline & Checklist
| | |
| --- | --- |
| Set a zero waste goal | One-year out leading to event day |
| Set expectations with participants | 9 months out |
| Request materials list from vendors | 3 months out |
| Provide feedback to vendors to minimize waste | 2 months out |
| Contact waste management companies for bulk collection options appropriate to event | 1-2 months out |
| Consult stakeholders on individual recycling/waste bin placement | 1 month out |
| Recruit volunteers | 1 month out |
| Outreach to local organizations to distribute extra materials | Post-event |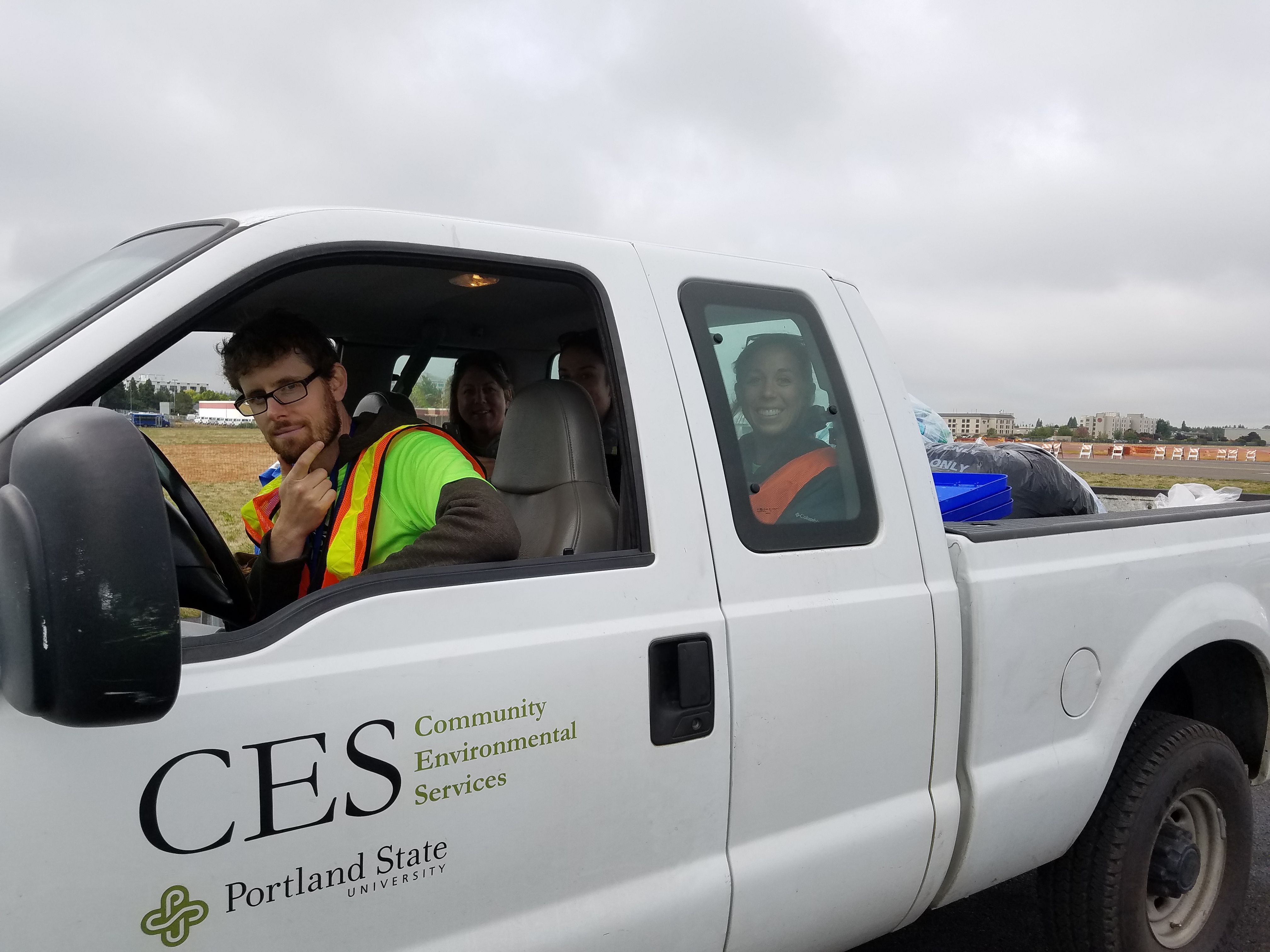 Nate White, CES Waste Minimization Team Leader, worked to collect recycling with team members. They planned ahead of time of how recycling would be picked up and arranged for the right equipment.
In planning the PDX Runway Run, waste minimization was brought in early-on and consulted during the design phase of the event footprint to help choose locations for recycling bins. Stakeholder engagement refines the plan and ensures its practicality, as it takes a team approach to make a big goal like zero waste possible. Setting the target early and gaining broad support is a key to success. It is also critical to bring in experts to support planning and the day of the event. The PDX Runway Run would not have achieved the 95 percent landfill diversion rate without the partnership of Portland State University's Community Environmental Services team that provided guidance and support. Consider reaching out to local experts in your community to help.
Support and interest from your event partner is critical as well; HTC Race Series worked in partnership with the Port to design the event around the goal to create a more sustainable event. The Port of Portland has a Five Years to Zero Waste Plan for its facilities, which includes Portland International Airport, two general aviation airports, four marine terminals and five industrial parks.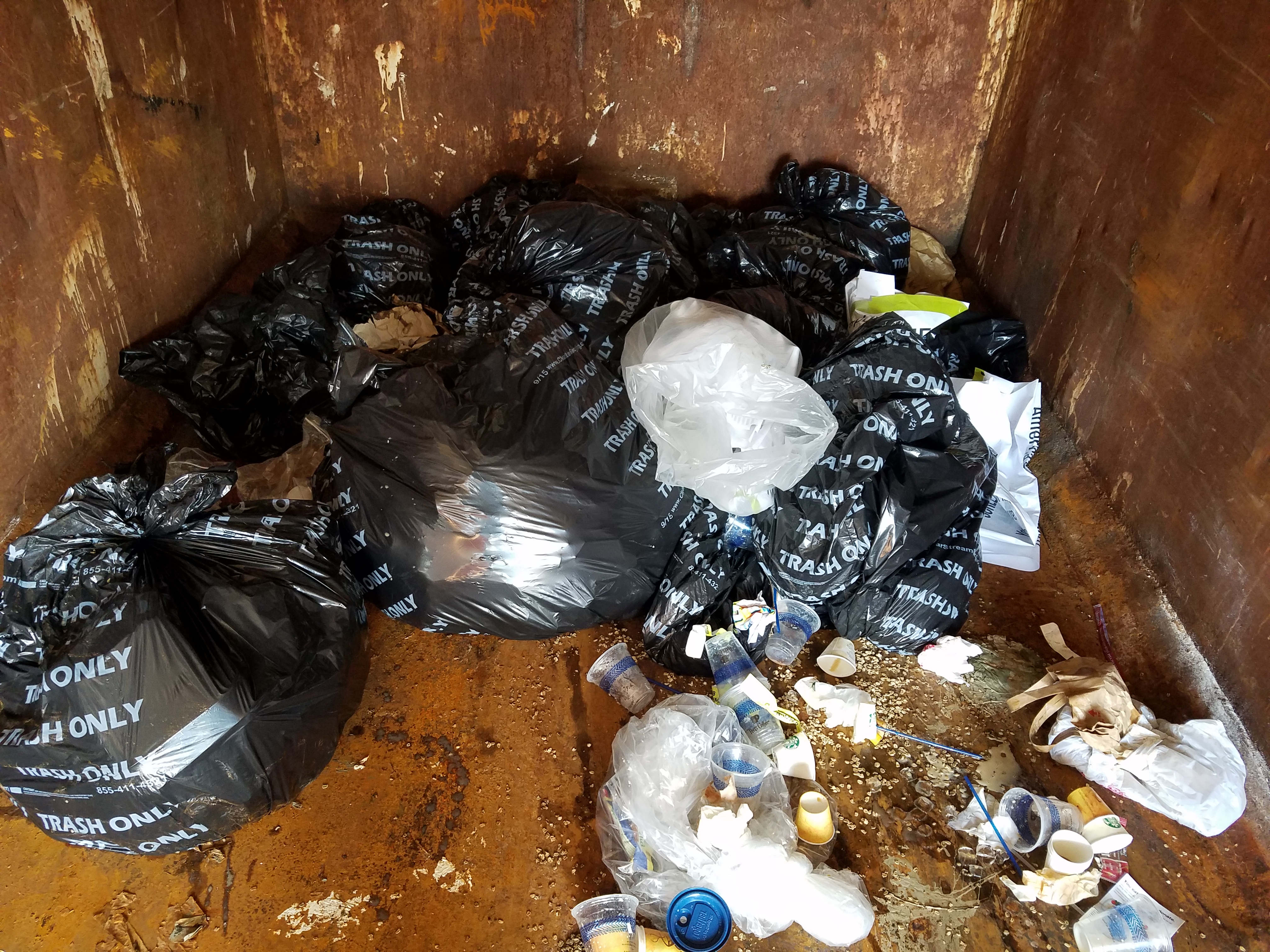 Last but not least, above is a photo of the garbage produced from the event. Not much for 2,500 people! Notice how bags are labeled "Trash Only" to further guide waste management.