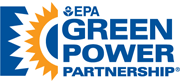 The Port of Portland has been ranked tenth in the nation in the Local Governments category under the EPA's Green Power Partnership program. The Port began purchasing renewable energy credits (RECs) in 2009 and now purchases 100 percent renewable energy through RECs. The Port also ranked 21st in the nation for power purchases amongst other organizations that purchase 100 percent renewable energy. This last year, that equated to over 75 million kilowatt hours of energy from renewable sources.
In addition to purchasing RECs for organization-wide operations, Portland International Airport also features on-site power generation from two solar panel arrays and cogeneration from methane produced at its deicing stormwater treatment facility. The Port's headquarters building and the long-term parking garage it sits atop use a variety of energy efficiency measures that respectively use 36 percent and 75 percent less energy than their similarly sized counterparts.
According to the Sustainable Business Oregon article about the rankings, the Port shared honors with other leading Oregon-based organizations including Intel, City of Portland, Lewis & Clark College, Oregon State University and Southern Oregon University.