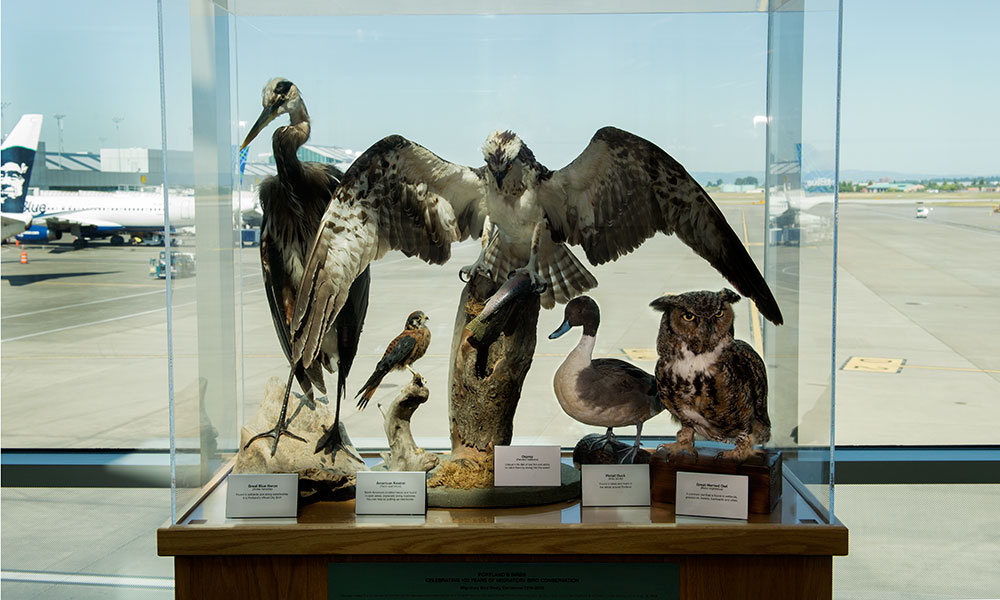 A display developed by the Portland International Airport wildlife hazard management team located on the Concourse Connector is honoring the Migratory Bird Treaty Centennial (1916-2016).
This year marks the centennial of the Convention between the United States and Great Britain (for Canada) for the Protection of Migratory Birds — also called the Migratory Bird Treaty — that was signed on Aug. 16, 1916.
The treaty protects nearly 350 bird species that migrate between nesting habitats in North America and wintering grounds in Caribbean, Mexico, Latin America, and South America.
The treaty connects the U.S. Fish and Wildlife Service with federal, state, private, non-government, tribal, and international partners who share a long, successful history of conserving, protecting, and managing migratory bird populations and their habitats. The Port of Portland works with the U.S. Fish and Wildlife Service in managing mitigation properties to enhance the region's birdlife.
At the case, you can view a Great Horned Owl, Great Blue Heron, Osprey, Pintail Duck and American Kestrel close-up to see the details and colors of their feathers. Migratory birds are critical to healthy ecosystems, providing pollination, insect and rodent control and seed dispersal. Their beautiful forms and musical sounds add beauty to our world.