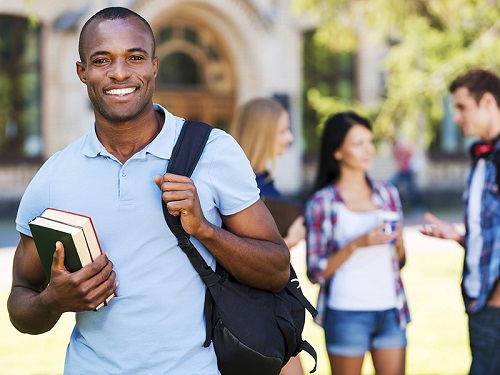 The Port is known for investing time, energy and resources in marine terminals, runways and industrial parks. But it doesn't stop with new infrastructure —the Port also invests in students.
Started in 1995, the Port's internship program provides students from area colleges the chance to put their classroom learning into action. Developing human capital — through internships and other learning initiatives, such as the Mentor-Protégé program —  is one important way the Port fulfills its mission of regional economic development.
Many interns go on to become full-time Port employees. Former interns work in the Port's research, real estate and GIS departments, among many others. The wildlife management department boasts the highest concentration of former interns; five wildlife team members began their careers as interns through the Port's partnership with Mount Hood Community College.
Port interns have gone on to impressive accomplishments in both the public and private sectors. One prominent example is Michael Kaplan, the current director of the Oregon Department of Energy, who interned in the Port's public affairs department from 2006 to 2007.
There are currently nine interns at the Port. One of them is Kalena Bone, an advertising and marketing major at PSU who has interned at the Port for just over a year. Kalena works in concessions development and helps establish relationships with the retail businesses that give PDX its unique local feel. Besides the hands-on experience, she's appreciated the chance to make "some really good friends in the office," as well as all the "cool, supportive people at the Port."
Another is Tera Hinckley, a PSU Masters in Geography student who interns with the Port GIS department. Tera has had the chance to be involved in several interesting and resume-building projects at the Port, including working with the storm water system data and helping to develop a temporal web map service to display PDXNext projects that will be occurring in the airport terminal. During her internship, Tera says that her "problem solving, time management and cartography skills have improved greatly."
Student Opportunities Go Beyond Internship Program
The Port's commitment to students extends beyond the traditional internship program. Since 2003, the Port has employed student consultants from Portland State University's Community Environmental Services program (CES). CES consultants help the Port manage its waste stream and have helped implement successful initiatives such as the PDX food donation program and the PDX Liquid Collection Stations.
Current CES consultant and PSU MBA student Doug Beyers had this to say:
"Not only do I get help paying for school, I also get to help solve important environmental problems and help the Port of Portland be a leader in its sustainability efforts. I'm working on a very interesting set of problems, and it's giving me the chance to apply the skills I'm learning in the classroom to meaningful, real-world challenges."
Real Work, Meaningful Experiences
Human Resources Specialist Brenda Patrick helps manage the internship program. She's proud of the opportunities students have for personal and professional development; "There's a lot of institutional knowledge in the port, and if you're willing and have a hunger and desire to learn, you can have a really great experience," Patrick said. "We pride ourselves on giving meaningful assignments, not just having interns help with catering or getting coffee."
Patrick believes the learning opportunities go both ways: "there's a lot to be gained from working with young students — people who have new ideas, especially around sustainability. It keeps the managers fresh and up-to-date with what's happening in the industry."
The Port spends both time and money to offer a meaningful internship program. It's an investment that will continue to pay dividends — for local students, for the organization and for Portland.
About the Program
The Port's internship program draws undergraduate and graduate students from many of the region's major schools, including Portland State, Lewis & Clark, Willamette University, Portland Community College, Mount Hood Community College, Seattle University, the University of Oregon, the University of Portland and Marylhurst University.
There are opportunities for students from a wide variety of majors. Port departments that regularly employ interns include engineering, environmental management, GIS, public affairs, IT, digital communications, planning, properties and legal.
Learn more about the Port's community outreach.