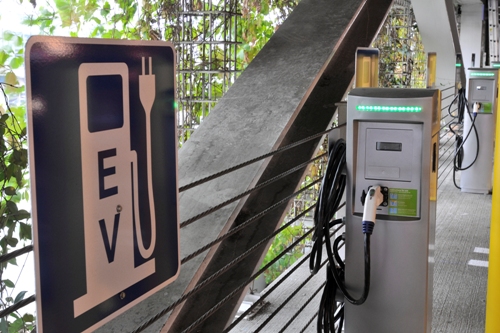 We are pleased to announce that Portland International Airport now offers electric vehicle charging stations in our short-term parking garage. The six Level 2 charging stations are located on the fourth floor of the garage near the south skybridge that connects to the airport terminal building. Two of the stations are allocated for valet customers, and valet staff will perform the charge at no extra cost.
"The charging stations help us reduce carbon emissions, while at the same time supporting the growing trend of electric vehicles and giving our customers a wide range of transportation options," said Michael Huggins, PDX landside operations manager for the Port of Portland.
The Port already has two charging stations in place for its two electric vehicles, and continues to grow the number of alternatively fueled vehicles in the Port fleet. Currently, 24 percent of the fleet are power by electric, compressed natural gas, flex-fuel or hybrid systems.
An additional boost to the electric vehicle market occurred this week when AAA announced it will run a pilot program beginning in June to introduce mobile electric vehicle charging to its roadside assistance trucks. Portland was one of six cities selected to be part of the pilot project.