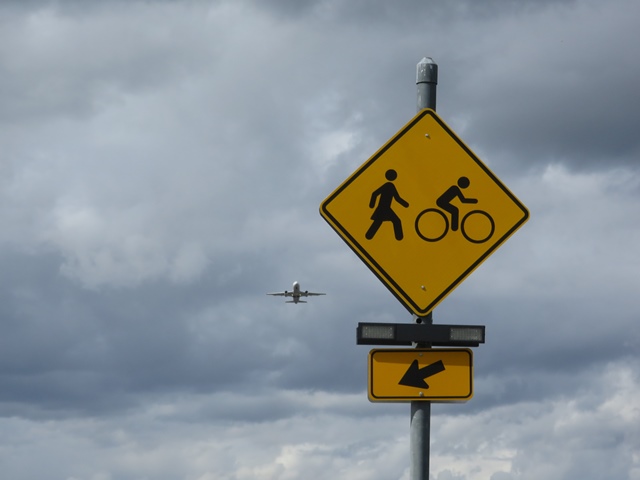 In celebration of the Bike More Challenge from May 1st-31st, we share tips to plan your next bike trip to Portland International Airport. Our comprehensive interactive website map shows trail routes and facilities. With a little planning you can make the journey to the airport, find free and convenient airport bike parking, or even take your bike with you on your next adventure!
1. Marine Drive Bike Path – This route is best if you are approaching the airport from Marine Drive, as well as from Vancouver, Wash. (going south) on the I-205 Bike Path.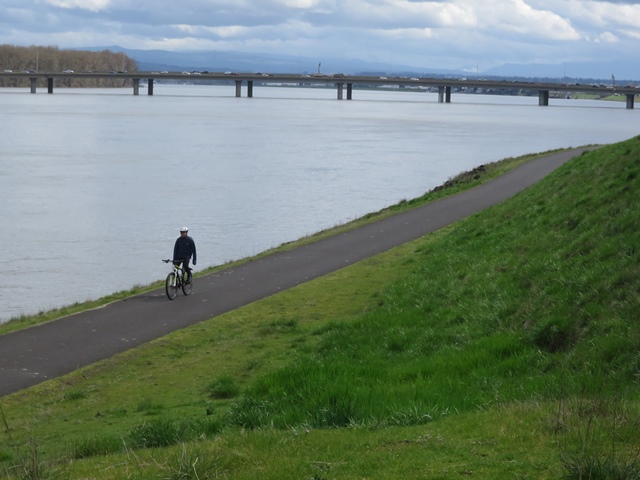 Marine Drive Bike Path on Columbia River looking east with I-205 bridge in the distance. Photo credit: Brian Burk.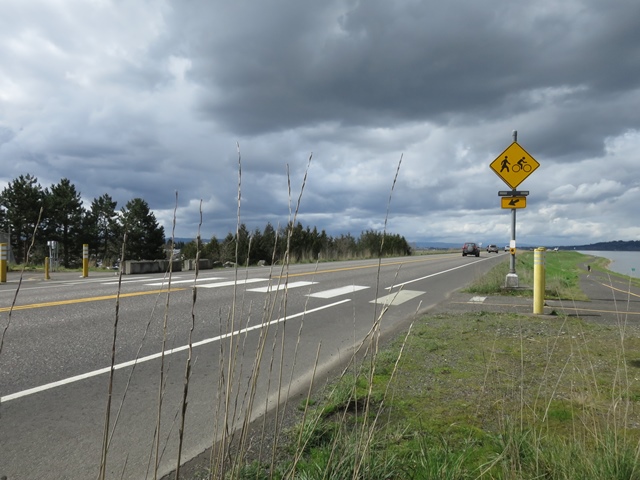 Bicycle and pedestrian crossing to the PDX's Airport Access Bike Path from Marine Drive, looking west. Photo credit: Brian Burk.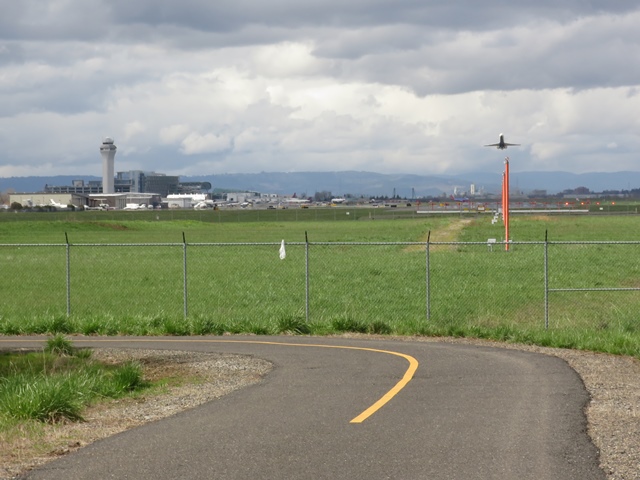 Airport Access Bike Path coming from Marine Drive heading toward Frontage Road, looking west. Photo credit: Brian Burk.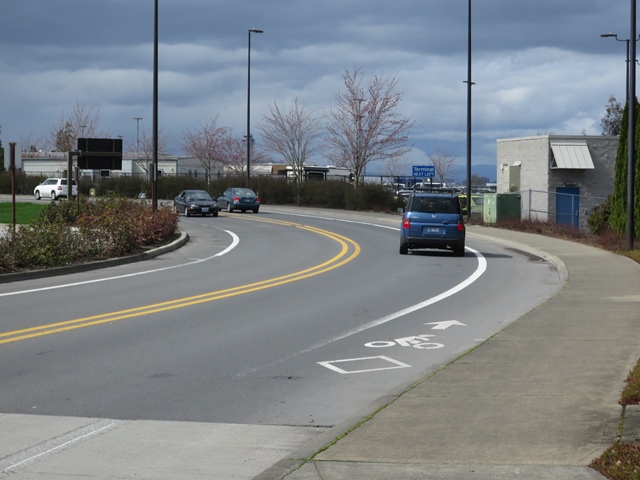 The bike facility along Frontage Road links the PDX terminal and Mt Hood Avenue's facilities to Cascade Station. This view is west of Northeast Mt. Hood Avenue traffic circle and Economy Lot entrance. Photo credit: Brian Burk.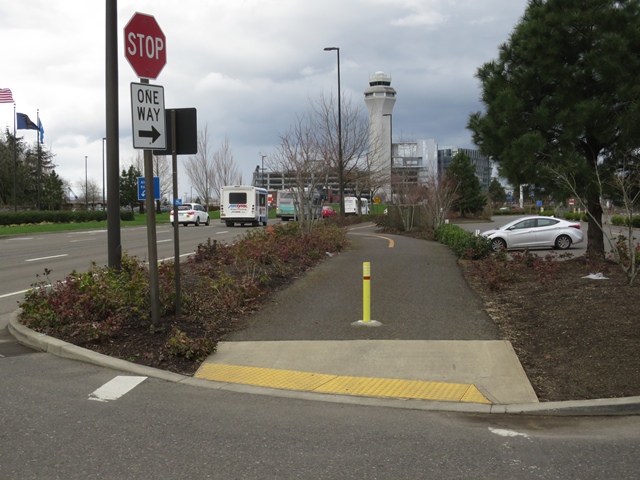 Frontage Road access merges into the multi-use path as you approach the terminal. Photo credit: Brian Burk.
2. Northeast 82nd Avenue: If you are heading to the airport on the I-205 bike path coming from Portland (going north), exit onto Northeast Alderwood Road and ride west to 82nd Ave. Then turn north (right) onto 82nd Avenue.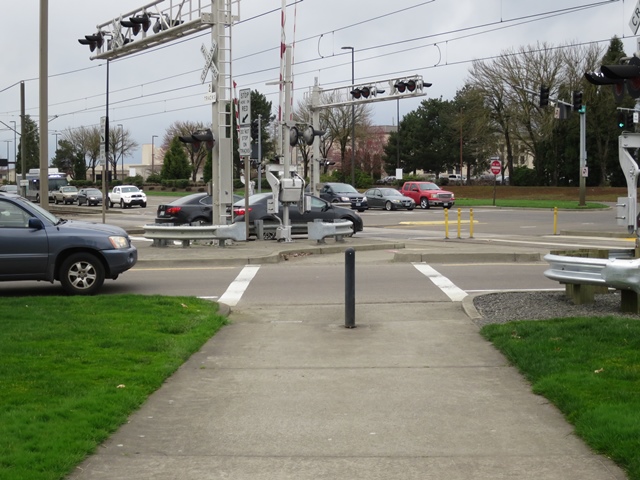 Bike path approach to Northeast 82nd Ave and Airport Way intersection. Watch right-hand turn traffic and the TriMet Red Line train tracks carefully as you cross. Photo credit: Brian Burk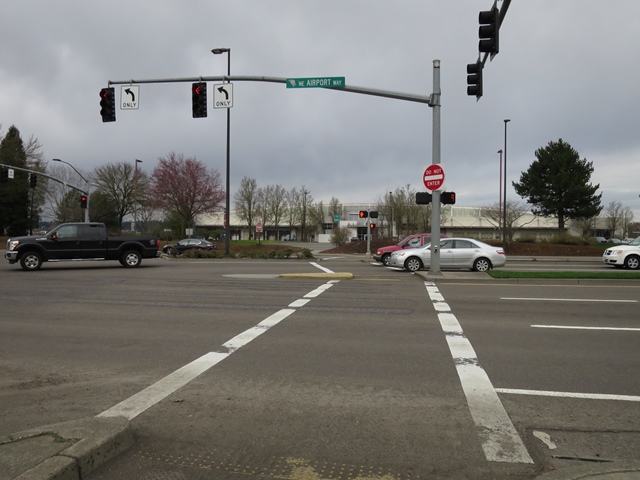 Pay close attention to cross-walk signals as you move across Airport Way. This area has a tremendous amount of traffic. The route has three different segments, each governed by a different pedestrian signal. Photo credit: Brian Burk
Once you cross Airport Way from Northeast 82nd Avenue, follow sidewalk jog to the Frontage Road multi-use path that takes you to the terminal.
3. Light Rail Access: Tri-Met serves PDX with the MAX Red Line light rail. MAX trains include bike hooks and connect to buses and other rail lines across the metropolitan area.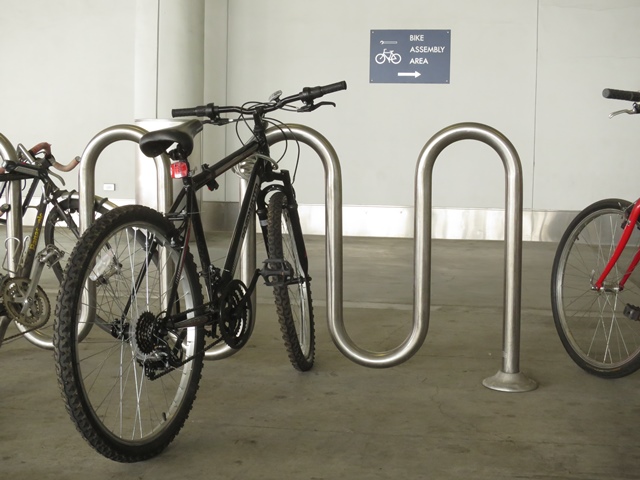 Secure bike parking is available near the MAXRed Line station at PDX. Please remember to bring your own lock. Photo credit: Brian Burk
4. Tools: A Bike Assembly and Repair Station is located near the bike parking/ Max Red Line station to enable people traveling with bicycles to assemble and dissemble their bikes before and after flights.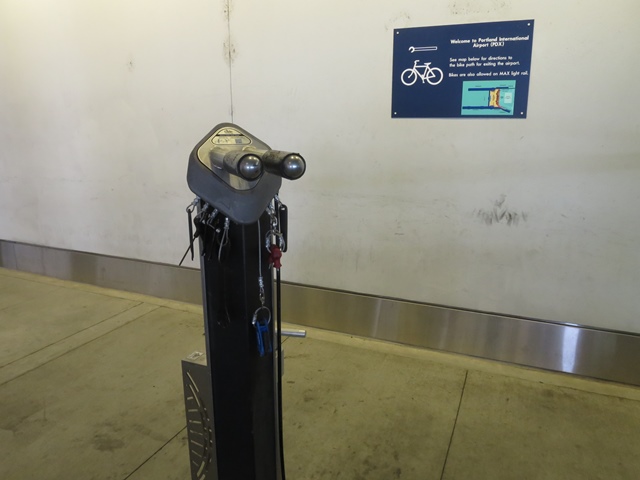 Bike assembly and repair station at PDX. Photo credit: Brian Burk
5. Bikes on Flights: To check a bike for plane travel, contact your airline for directions. Checked bag and sports equipment packaging policies differ among airlines. For example, they may require that handlebars be removed. No worries, the PDX bike assembly and repair station has you covered with the necessary tools.
What's next? As PDX expands to meet increasing customer demand, the Port will continue to integrate bike route and safety improvements.  In 2014, the Port completed a Bicycle and Pedestrian Master Plan. Recently, transportation planning and design experts conducted a bike path assessment to incorporate specific improvements into PDXNext.
Construction will affect the airport bike path beginning April 2017: In preparation for the start of the Concourse E Extension construction project, changes to the routing of the bike path leading to the terminal will take place in April. The path will continue to safely lead bikers to the terminal, though it will jog out onto the roadway and be separated from traffic by jersey barriers.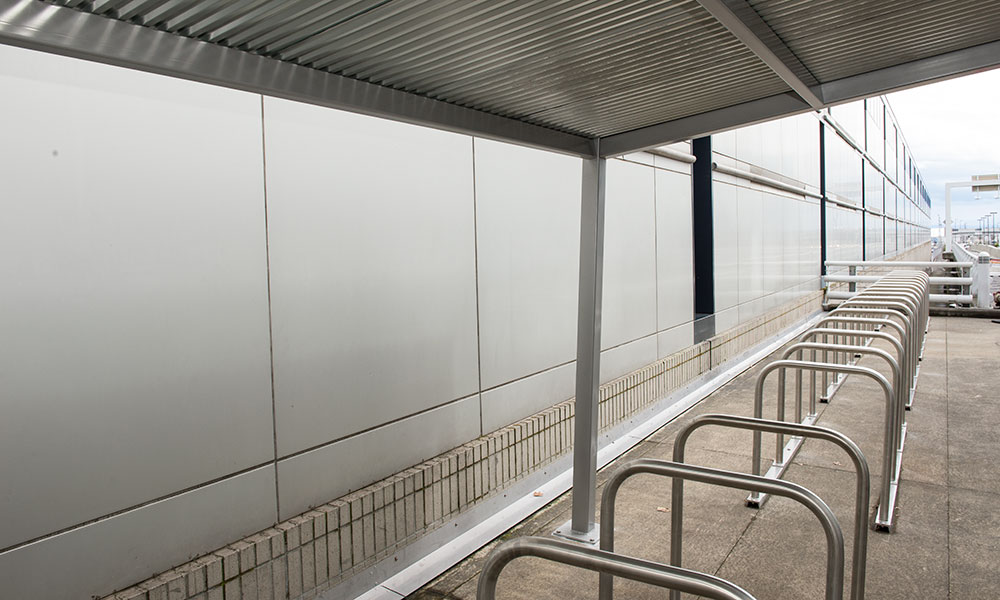 Photo of temporary bike parking for employees due to construction activities.
For the latest updates on the bike path as construction progresses check the bulletin board on the PDX website.