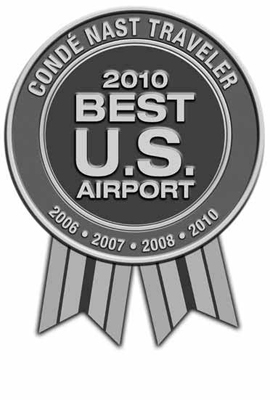 Over the past few months, the Port of Portland has received a Green Power Leadership Award from the Environmental Protection Agency, an Environmental Outreach award from Airports Council International North America, and Best U.S. Airport recognition from Condé Nast magazine. And in January, our new headquarters building received the Oregon Chapter of the American Council of Engineering Companies' Engineering Excellence Grand Award.
These awards recognize some big projects at the Port. The EPA Green Power Leadership Award was earned through consistently larger purchases of certified renewable power. Earlier this year, the Port bumped our renewable power purchase from 56 percent to 100 percent of our electricity usage Portwide. The importance of certified renewable energy sources was confirmed by the Port's recent greenhouse gas emissions inventory, which earned The Climate Registry's "Climate Registered™" status in 2010.
Inventories help us prioritize emission reduction activities. The Port has set a goal to reduce direct and indirect greenhouse gas emissions 15 percent below 1990 baseline levels by 2020, and we've implemented numerous energy conservation strategies, retrofitted equipment to be more energy-efficient, and purchased renewable power to work toward this goal. In December, we issued a request for proposals to help with a comprehensive energy management and greenhouse gas emissions reduction plan.
The ACI-NA award was an honor to the hundreds of people from the region who contributed to the Airport Futures project, which created a long-range airport master plan and city land-use plan for Portland International Airport. Over the course of more than 100 public meetings and dozens of outreach and involvement opportunities, the three-year project featured comprehensive dialogue on planning for the future of PDX in a way that incorporates community values and integrates sustainability principles. An ongoing PDX Community Advisory Committee will keep the spirit of the work alive.
Finally, the news from Condé Nast was a gratifying reminder that our work has an impact on the community we serve and people visiting the region.