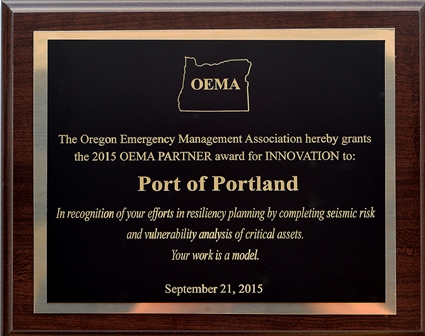 Earthquake threat is on the minds of Oregonians…How will it happen? Am I prepared? Planning is critical to ensure safety and resilience.  These same questions concern Port engineers and managers when considering essential infrastructure assets that the Port maintains and operates. The airport and marine terminals provide a vital link for the movement of supplies and equipment.
Given the threat, Port of Portland worked on a comprehensive seismic risk and vulnerability analysis of its most critical assets. The Oregon Resilience Plan inspired their work; it calls for a comprehensive assessment of key structures and systems that support Oregon's economy.
The project's scope included ground motion analysis to simulate how earth would move in an earthquake. Engineers also evaluated buildings to see how their age and construction type would respond to ground motion forces and liquefaction.  Upon identifying vulnerabilities, engineers proposed corrective action projects and a corresponding cost-benefit analysis to prioritize.
Oregon Emergency Management Association (OEMA) recently awarded the project the 2015 OEMA Partner Award in Innovation. OEMA is a statewide association of emergency managers, emergency responders, government agencies, elected officials and providers of products and services, or resources who are committed to building strong partnerships to minimize the impacts of disasters on the citizens and communities of Oregon.
In the award, OEMA cited the Port's work as a "model" for others given few seismic studies of this scope have occurred in response to the Oregon Resilience Plan.  We congratulate the following organizations and individuals for their work and award to protecting vital Oregon infrastructure.
Port of Portland Project Team:
Tom Peterson, PE, Chief Engineer, Project Sponsor
Dave Dittmer, PE, Project Manager
Tom Wharton, PE, Project Engineer
Shelley Miyahara, Administrative Coordinator
Technical Advisory Committee:
Jose Alcala, Cheryl Arpan, Mark Crosby, Scott Drumm, Danny Garcia, Marla Harrison, Kori Nobel, Dave Pfeiffer, Tom Peterson, Dan Pippenger, George Seaman, Steph Sharp, Camilla Sparks, Greg Sparks, Stan Watters
Consultant Team:
HNTB Corporation (Project Management)
BergerABAM (Marine Facilities Engineering)
Geotechnical Resources, Inc (Geotechnical Engineering)
ImageCat, Inc. (Seismic Risk and Benefit-Cost Analysis)
KPFF Consulting Engineers (Building Structural Engineering)
New Albion Geotechnical (Geotechnical Engineering)