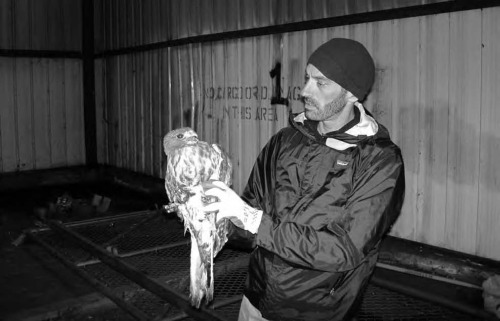 On Oct. 29, 2009, Mike Erdmann, a plumber with the Port's marine facilities maintenance team, was inspecting the fire suppression system inside a warehouse at the Port's Terminal 2 marine facility. It was a routine inspection until he noticed a large, female red-tailed hawk with an injured wing limping around the warehouse. Erdmann immediately called the marine environmental group for assistance. Richard Vincent, an environmental project manager who formerly worked at Portland International Airport and who had trained with the PDX wildlife team, and Mike Jeletic, environmental technician, hurried to the warehouse. The injured hawk took several aggressive swipes and lunges at her would-be rescuers. After several careful attempts, Vincent gently captured her underneath a cardboard box.
The group then called Nick Atwell, aviation wildlife group manager, who frequently handles birds as part of the PDX Wildlife Hazard Management Program.
Atwell arrived at Terminal 2, transferred the injured hawk into an animal carrier, and delivered her to the Audubon Society of Portland's Wildlife Care Center, a bird rehabilitation facility located in northwest Portland.
A series of X-rays revealed that the hawk had a broken clavicle. She received a wing wrap, which held the injured wing close to her body to prevent re-injury while the clavicle healed. As healing progressed, the hawk was transferred to a larger cage where she could move around a bit more, and subsequently to a flight cage where she could practice flying, feed herself and survive independent of significant human care. Following nearly two months of medical care and rehabilitation, the resilient hawk was released on Dec. 22.
"This rescue had a great outcome for all involved," said Vincent. "The quick reaction by Mike Erdmann and cooperation between Port marine and aviation environmental staff, and the always excellent care from the folks at Audubon, ensured this lucky hawk's rescue and ultimate release."